We are extremely proud to have earned the Great Place To Work certification for the second year in a row!
Our dream is to become the best employer in Canada by 2025. So you can understand how much this recognition means for everyone at Roy., including employees and partners.
Read on to learn more about :
What is a Great Place To Work certification?
How does the certification process work?
The 5 key dimensions of Great Place To Work certification
Why was a new certification important for Roy.?
The Roy. commitment
What is a Great Place To Work certification?
The Great Place To Work certification is a national recognition offered to companies that demonstrate exceptional organizational culture.
A Great Place To Work certified company is one where trust prevails at all levels of management. Employees have a sense of pride in the organization and in their own achievements, enjoy the work environment and the people they work with.
In other words, it's a great place to work!
Certification is awarded based not on an organization's employee benefits, but rather how the employees feel about working there.
How does the certification process work?
Companies must follow a 3-step certification process.
1. Poll the employees :
The purpose of the "Trust Index" survey is to assess employees' level of well-being and to better understand their experience of working at Roy. Our employees had 2 weeks to answer 60 confidential questions.
2. Write a Culture Brief :
We then filled out the Culture Brief. This is a questionnaire in which we explained our best practices as an employer brand for making the workplace conducive to our people's well-being and development.
3. Assessment of the business and certification :
After submitting all requested documentation, the experts at Great Place To Work assessed our application to determine whether our organizational culture met the high standards certification requires. We had to achieve a positive score of at least 70% on the Trust Index survey.
The 5 key dimensions of Great Place To Work certification
The employee evaluation of Roy. called for opinions expressed on 5 key dimensions :
1. Credibility
It is very important for us to be trustworthy and credible in the eyes of our employees. Our people are at the heart of our mission and we are very glad to have been recognized and rewarded in this aspect. 82% of employees surveyed believe that Roy. is credible.
2. Respect
According to the survey, 82% believe that management is respectful toward employees. They feel supported and involved with regard to decision-making at Roy. We want to continue on this path by supporting and caring for our community.
3. Fairness
We are also committed to positioning ourselves as employers who are inclusive, open to diversity, and fair toward all employees. We were therefore delighted to learn that 80% of the Roy. community surveyed feel that our workplace demonstrates impartiality.
4. Pride
The true value of the cleaning trade is rarely recognized. That's what spurs us to promote the trade among customers, the general public and our employees. We are happy to report that 85% of respondents say they are proud to work at Roy. We are glad that our employees see the positive impact of their contribution to society.
5. Camaraderie
We aim to create a sense of family for one another at Roy. We constantly work to ensure that new employees are welcomed and trained in the best way we can offer. From the inauguration of the Roy. Campus, providing training for new recruits, to leadership certification programs, our goal is for everybody to feel good about their work, and well prepared. 81% of employees surveyed say that the camaraderie at Roy. is alive and well.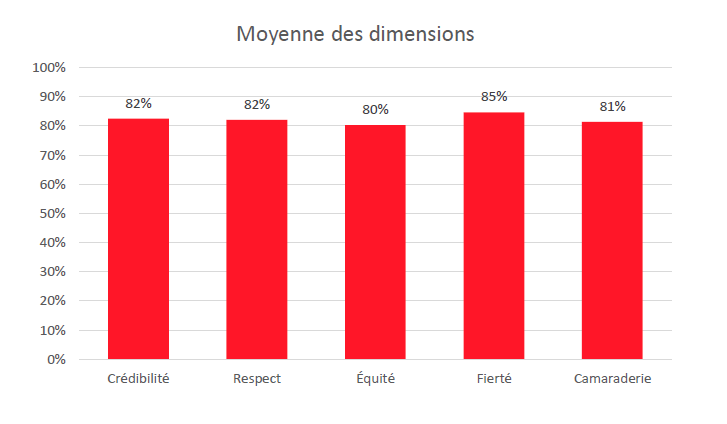 Why was a new certification important for Roy.?
We are grateful for the close-knit community we've built together, which helped us receive Great Place To Work certification for the second year in a row. Receiving certification raises the company's profile across the country. More importantly, it helps the organization attract and retain people.
1. Official recognition
The certification can help show partners and future candidates that Roy. is a great place to work and that the well-being of our people is at the heart of our mission.
2. Brand attractiveness
This certification shows job hunters that Roy. is a caring employer that implements concrete actions to promote the well-being of all our colleagues. Being certified has helped Roy. maintain its ranking among the country's best employers since 2021.
The Roy. commitment
At Roy., we care about delivering impeccable service to our partners, and we know that great service begins with happy employees in the field. This prestigious certification emphasizes the fact that our efforts in employee engagement have had a concrete impact, reflected in employees who daily contribute to our reputation for excellence.